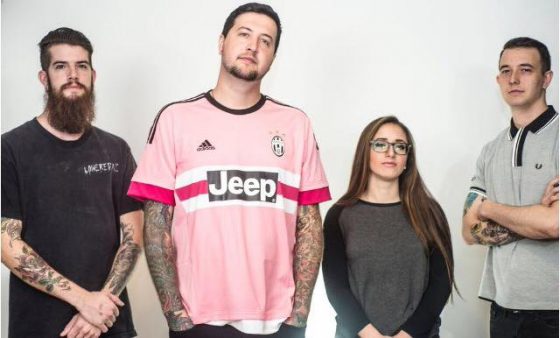 サウスカロライナ州、Spartanburg出身の、ポップパンクとハードコアをブレンドしたスタイルのバンド、Brigades。昨年、アルバム"Indefinite"をリリースし、そこから少しの間、音沙汰のなかったバンドですが、12月にはジャパンツアーが決定しました。新しい音源のリリースも予定していて、以前よりも動きがアクティブになっていくようです。今回は、ボーカルのDarren Youngに、インタビューに応じてもらいました。
(Interview by Shane Dover / Translate by 3104punx)
Facebook / bandcamp (Pure Noise Records)
(For foreign readers; The interview article in English follows after Japanese sentences, so please click "Read More…" and go through to the bottom.)
最初に、簡単な自己紹介をお願いします。好きな音楽や、音楽以外で興味のあることも教えてください。
どうも!Darren Youngです。サウスカロライナ州、Spartanburg出身のBrigadesというバンドのボーカルで、バンドを作った人でもあります。好きなアーティストは、そうだなぁ、愛すべき存在のプリンス、かな。多分、こういったら親父は喜んでくれるかと 笑
音楽以外でいうと、友達のJ Napsと一緒にジムに行くのが好きかな。それに、映画の大ファンで、映画を見るのが好きだね。家で見るか劇場で見るかは気にしない。あと、家族と一緒にスポーツを見たり、スポーツイベントに出かけたりするのも、自分にとって重要なことの一つ。あと、最近は、ホンダのCR-Vをイジるのが趣味になりつつあるね。さらには、読書も好きかな。小説とか漫画とかにハマってるね。
Brigadesは少し前にジャパンツアーを発表しましたが、今までに日本に来たことのあるメンバーはいますか?もし、行ったことがあるなら、一番気に入った場所、もし無いなら、どこに行きたいと思っているか、教えてください。
うん、Brigadesは、ICE GRILL$のオーナー、ミズキのおかげで、12月に日本に行くんだ。まだツアーのことはちゃんと考えられてないんだけどね。
メンバーは誰も日本に行ったことないよ。だから、今回のツアーではたくさんのやりたいことリストを消化したいと思ってるし、他のメンバーもそうなんじゃないかな。正直にいえば、バンドの仲間と一緒に、国を離れるっていうことだけで興奮してる。バンドに一生懸命に打ち込んだ結果、ショウをやりながら、他の国を見て回れるなんて最高だからね。
東京はずっと夢見てきた場所だし、新しい人にであるのも楽しみ。とにかく今回の機会には感謝してるよ。「非常に満足!!」
去年リリースしたアルバム"Indefinite"では、ハードコアとポップパンクを、感情的かつ楽しい雰囲気でブレンドしていますよね。どのアーティストに最も影響を受けたと言えますか?
音楽にのめり込んで、カセットテープを集めたりするようになったのは、家族の影響なんだ。幼い時から、両親が自分のためにテープを買ってくれて、それに影響をされて、どんどん精神的に成長していったんだ。Elvis PresslyやFrank Sinatra、CCR、Fleetwood Mac、それにElton JohnやMichael Jackson、Prince、David Bowieなんかを聞いていたね。
それからCDに興味を持つようになって、NivanaやGreen Day、Third Eye Blind、Smashing Pumpkins、Gun' N Roses、Def LeppardにWu Tangといったロックバンドや、Coolio、LL Cool J、Eminemといったヒップホップの音源を買い始めたんだよね。(とにかく音楽にハマって、ここに挙げたバンドを片っ端から聞いた感じ。それが、今の自分の"バラバラな"歌詞に影響を与えてると思う。)
そして忘れられない出会い、それが初めてBlink-182を聞いたときのこと。ちょうど、普通のキッズではもういたくないって思い始めた頃だったんだよね。何かに打ち込みたいって。その新しい世界がパンクだった。NOFXやRancid、Screeching Weasel、そしてGorilla Biscuitsなんかがその入り口を作ってくれて。高校生時代は、Fat Wreck ChordsやDrive-Thru Records、Victory RecordsにTooth & Nail にドップリだったね。その全てが人生を変えてくれた。
音楽は、自分自身をガバッと切り開いて、体の中に入ってきて、自分が本当にどうなりたいのかを見つけてくれる。それは、音楽的なことだけじゃなくて、毎日の生活についてもそうなんだよね。
どのような方法で曲作りを行いますか? 歌詞を書いてから曲を作るのか、それともその逆なのか。考え方や内容についても教えてください。
自分にとって、曲を書く作業は、時間がかかる作業。そして、とても苦労する作業なんだけど、曲作りやレコーディングは大好きだよ。ミュージシャンとして、そしてアーティストとして、最も自分を表現できる、クリエイティブなパートだからね。曲には、率直な感情を込めるんだ。苛立ちや狼狽、楽しみ、恐れ、愛、憎しみ。本当にいろんな方向からアプローチする。とても大変な作業だけど、最終的に出来上がったものを聞いたら、いつも、頑張った甲斐があったなって思うんだ。
ギターパートの曲作りも好きで、結構なパートを作ってるよ。メロディーは、適当な内容を歌いながら作るね。そのあとで、散歩中やドライブ中にノートやスマホに書き溜めたアイデアから歌詞を作っていくんだ。
日本のアーティストの曲は聴いたりしますか?
うん、FACTが大好き。彼らのライブがとにかく見たいね。
残念なニュースなんですが、FACTは解散してしまいました。現在は、SHADOWS (Vo. Hiro, Gt. Kazuki, Gt. Takahiro)と Joy Opposites (Vo/Gt. Adam, Dr. Eiji, Ba. Tomohiro, Gt. Imran (元Amity Afflictionのメンバー) )という2つのバンドで、それぞれ活動しています。
え?そうなの?それは残念だなぁ。FACTはめちゃくちゃカッコいいバンドだったからなぁ。うん、新しいプロジェクトをチェックしてみるよ!
いつ頃、Brigadesの新しい曲が聴けることになりそうですか?
実は、今ちょうど新しい音源を作ってる最中なんだ。バーテンの仕事が終わった後、毎日、長い時間を曲作りやトラッキング、編集なんかに費やしてるよ、もうすぐプリプロに入る予定だね。
別に急ぐ必要はないんだ。まだ、そんなに失うものは多くないし、新しい要素を取り入れてフレッシュな気持ちで始めてるからね。今は、ただただ制作の過程を楽しんでるよ。お互いを感化しあってベストなものに持って行く。13歳の頃にバンドを始めた当初のような感覚で制作に取り組んでる感じだね。とてもやる気に満ち溢れてる。曲はとてもいい感じだよ。これから出来上がっていくものに対して、とても興奮してるね。
Brigadesというバンドは、しばらく上手くいかない時期を経験して、今はまだ、その不幸な時期に失ったものを取り戻そうとしてる最中だけど、きっともうすぐ再出発できるはずさ。数年前に自分がバンドを始めたころに思い描いていた方向性に向かって、ようやく動き出せたって感じだね。本当に機会に恵まれたと思うし、ずっと自分たちのことをチェックしてくれてる人たちのサポートに感謝してるよ。
今回は、時間を作っていただいてありがとうございました。
————————————————
Brigadesのジャパンツアーは12/15からスタートする予定です。日程は、以下のフライヤーの通り。彼らの最新作"Indefinite"は、Pure Noise Recordsのbandcamp(コチラ)でチェックできます。また、FacebookやTwitterで最新情報をチェックしてみてください!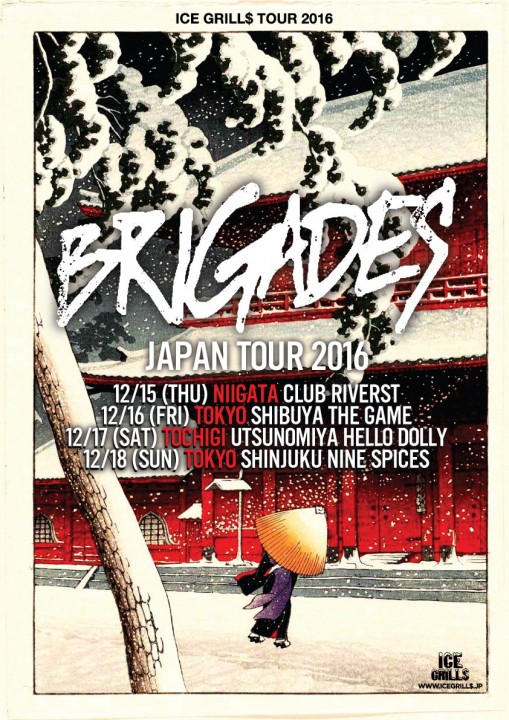 —–English—-
Brigades are a pop-punk/hardcore blend out of Spartanburg, South Carolina that released the album Indefinite last year. They've been a little quiet for a while, but with a slew of new live shows coming up, a tour of Japan, and the promise of new music, they seem back stronger than ever. We caught up with Darren Young, the vocalist of Brigades, to ask a few questions.
Let's get to know you a little, can you tell us your name, role in the band, favorite artist and, outside of music, what are your interests?
Hi, my name is Darren Young. I'm the singer/founder of the band Brigades from Spartanburg, South Carolina. My favorite artist? Hmm… I'll go with the beloved Artist Formerly Known as Prince. That'll make my dad happy. (Haha)
Outside of music I like to go to the gym with my friend J Naps. I'm a huge movie buff, so I love watching movies/going to the movies. Home or theater, doesn't matter. Watching sports with my family and going to sporting events is a big thing for me. Working on my 90s Honda CR-V has become a big hobby for me. (Haha) I collect the dumbest things, mostly memorabilia from my childhood. I like to read… sometimes. Nowadays it's gotta be a book, novel, or comic that really gets me hooked.
Brigades just announced a Japan tour, have any of you visited Japan before? If so, what was your favorite place to see? If not, where are you excited to go?
Yeah, Brigades is headed to Japan in December all thanks to my buddy Mizuki Ishii over at Ice Grill$. It's still hard to fathom. None of us have been to Japan. This is a big check off the bucket list for me, and I'm sure for the others as well. Just excited to leave the country with my bandmates honestly. We've all been working really hard and it's gonna be nice to get out there and explore while playing some kickass shows. Tokyo in general has always been a dream spot for me. I can't wait to meet new people out there. I'm extremely grateful for the opportunity. 非常に満足!
You released the album Indefinite last year, blending hardcore and pop-punk in an emotional and thoroughly enjoyable way. Which artists would you say you're most influenced by?
I was brought up into music and collecting cassette tapes by both sides of my family (Yes, I'm old haha). So I was lucky enough to latch on at a young age and feel that influential growth the more and more tapes they got for me. In my early years it all started with artists like Elvis, Frank Sinatra, CCR, Fleetwood Mac, Elton John, Michael Jackson, Prince, David Bowie, etc… Then I got really big into CDs and I started buying a lot of rock and early hip hop records from bands/artists like Nirvana, Green Day, Third Eye Blind, Smashing Pumpkins, Guns N Roses, Def Leppard, Wu Tang, Coolio, LL Cool J, Eminem, (the list goes on. I dove in so hard. I gained an interest in music so passionately that I listened to everything that came out on the shelves. This explains my sporadic writing, I suppose.) I'll never forget the first time I listened to Blink-182 though. That's when I instantly decided I no longer wanted to be a normal kid. I wanted to be a part of something more. This new world of punk. They opened up outlets for me to dive into NOFX, Rancid, Screeching Weasel, Gorilla Biscuits. Then Fat Wreck, Drive-Thru, Victory, and Tooth and Nail became an obsession all through high school. That all changed my life. Music can really cut you wide open to dissect and dig to find who you really wanna be. Not just musically, but out in every day life too.
What's your approach to writing music, in regards to mindset, content, and if you rather write lyrics then instruments, or vice versa?
Writing is a long drawn out process with me. I go through trials and tribulations with writing, but I love writing and recording. That's really the most expressive and creative part to being a musician/artist. A lot of raw emotion put into it. Frustration, dismay, joy, fear, love, hate. It's a very versatile formula. It's a lot of work, but the juice is always worth the squeeze once you hear the final product. I love writing guitar parts. I do a lot of that. I usually write the melodies to the songs with gibberish. Then I write the lyrics after from things I write down in my notebook or on my phone just from every day walks/drives.
Do you listen to any Japanese artists?
Yes, I really like this band called FACT. I would love to see them play.
Bad news on FACT, they broke up, good news is they're now 2 bands, SHADOWS (with Hiro on vocals, Kazuki and Takahiro on guitar) and Joy Opposites (with Adam on vocals and guitar, Eiji on drums, Tomohiro on bass and former Amity Affliction member Imran on guitar and vocals) and they're both amazing.
What?! That's a bummer about FACT. They were sick. I'll have to check out their new projects.
When can we expect to see new music from you guys?
We're actually working on that now. I've been spending a lot of time each day after work bartending, writing/tracking/revising. We're gonna take our time with pre-production. There's no need to for me to rush it. We don't actually have a lot to lose right now. We're pretty much starting fresh with new elements. We're just enjoying it and having fun. Pushing one another to be the best we can be. It actually feels like the first time I ever started a band when I was like thirteen. That gut feeling and pure adrenaline fever. These songs are sick. I'm really pumped on the way things are going and the vibe. Brigades went through mess after mess and I'm still here cleaning up after poor mishaps. It will be revived though. Brigades is finally heading into the direction I had planned for it when I started the band years ago. Extremely thankful for the opportunity and for all the support from the ones who stayed true.
Thank you to Darren for taking the time to talk to us, the Brigades Japan tour starts the 15th of December, and the dates are below: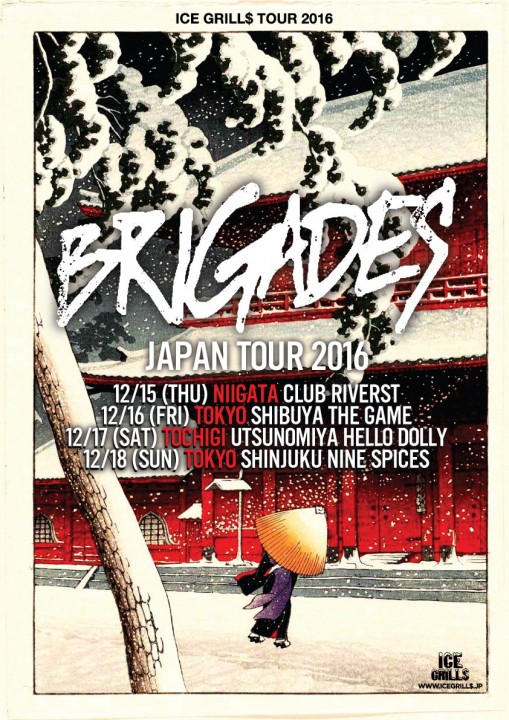 You can check out Indefinite, their latest album, as well as Crocodile Tears (older EP) and Our Lives Unfold (acoustic EP) on Apple Music or Spotify, and can keep updated with them through their Facebook (https://www.facebook.com/brigadesband/) or Twitter (https://twitter.com/brigadesband).